E-COMMERCE MARKETPLACE - Commerce and sales are two aspects of our lives that have always accompanied us. Today, however, they are experiencing a period of change. If before the only form of purchase was made through going directly to physical shops, today sales online have increased, and it also allows you to receive the goods directly to your home. This service is significantly spreading, so as to include every sector of the economy, both for small and large companies. Many, however, especially small businesses, have not understood the importance and the extent of e-commerce and marketplaces. Cristina Giotto, director of Ated-ICT, explains how all this is happening and what the future prospects are.
Everybody - or almost everybody - is crazy about e-commerce
Digitalisation is a process that is in progress by now, and that will leave no economic sector to escape. Also the world of art has realized it.  As for commerce, the biggest digital revolution concerns the possibility of being able to sell products online and have them arrive all over the world. The first to grasp the importance of this aspect and be able to make strong use of it for some years now are the catering and food distribution sectors. Initially the most present on the field were the big chains and restaurants of the metropolis, today, after the events of 2020, it began to be part of even the small realities. According to Retailx projections, at the end of 2020 the e-commerce market in Europe would be worth 717 billion euros, with an increase of 12.7% compared to 2019, with a real «boom» expected for this 2021.
Despite this data, many economic sectors still have reservations about e-commerce, because the reception that there was from many traders is not what you would have expected.
Attempts by merchants in the Canton of Ticino to create an alternative route to e-commerce
During an interview with the Teleticino program "La domenica del Corriere" I had the opportunity to talk a bit about what was the Swiss and Italian example regarding the e-commerce and marketplace experience. I said that in recent months we have observed how some traders have equipped themselves in an original and creative way, for example in the use of social channels. They have often used them very well to sell their collections and products, that we as buyers could not go to buy in physical stores. As ated we told and valued them in our articles on the various newspapers with which we collaborate. These are historievisionaries that really showed how supply and demand were ready to find themselves through the new digital roads. But certainly there was no space like a marketplace that would collect them all, facilitating them in logistics, in the integration of payment solutions, in training new digital skills needed to succeed in a virtual environment.
The Italian and Geneva example with e-commerce and marketplaces from which we should take inspiration
According to one of the last reports of The European House - Ambrosetti the marketplace turns out as the economic field with the greater increase not only of the eCommerce, but of the total of the economy of the private sector in the near Italy. They are configured as a key player in the retail scenario and beyond. Marketplaces represent the fastest growing segment in 2019, both for turnover and for employment, followed by online retailers, brand owners and customer care activities. And the estimates on 2020 are performance certainly with the sign more than positive!
Italian example
There are also very encouraging examples such as the round of funding of 100 million euros put in place by Everli, a digital marketplace, through which consumers can choose the supermarket where to buy, order products and receive them the same day via dedicated Everli shoppers. A company that played a particularly important role for consumers during the Covid-19 pandemic. And in the fashion industry, I always like to mention Luisaviaroma, the Italian e-commerce for the world's most famous deluxe shopping. The physical and iconic store in Florence (with shop windows in Via Roma) today plays a small part in the group's accounts. The lion's share is entirely the prerogative of an online platform available in 9 languages (English, German, Chinese, Russian, Spanish, French, Korean and Japanese) which now accounts for 92% of total sales. We are talking about a turnover of 210 million euros, with orders shipped worldwide from the Florence office, guaranteeing free deliveries and import taxes included for almost all countries in the world. A marketplace that over the years has been in the luxury market as a reference point not only for shopping tout court but above all for a 360 degree experience. And it all started with a physical store!
Example of Geneva
As guests with me at the show there were also Sébastien Aeschbach, co-founder of «Genève avenue» and Carlo Terreni, co-founder of Netcomm Suisse, who told about the experience in Geneva. In fact, among the first cantons to move towards e-commerce and forms of marketplace was Geneva, which since 2018 has been working on a platform to promote local purchases. «Genève avenue» now brings together 170 traders.
"The birth was accompanied by enthusiasm and fear. Initially small-medium traders did not see the usefulness of online sales, but the pandemic changed everything».
The project, born in Geneva with the support of Cantone, is a real portal of online purchases that last year contributed to the sale of over 50 thousand articles for a sum that reached 50 millions during the Christmas period.  This concept may find fertile ground also in our area. "In Ticino there is a strong request for online sales", Carlo Terreni confirms. "Merchants are growing an interest that was absent before". What is missing today is a real collector to launch a large-scale project even South of the Alps".
The issues for e-commerce and the marketplace for the Canton of Ticino and the commitment of Ated
The last year has taught us that we need to rethink many of our most ingrained habits. Not embracing the idea of a marketplace turned out to be really a great economic damage and a loss of opportunity, because many merchants could have sold us their goods through online stores or dedicated digital platforms, as demonstrated by the successful case of the city of Geneva. It is a pity that in Ticino there has not (yet!) planned a strong initiative and an integrated response, after that for months we, as ated-ICT Ticino, have made available projects and feasibility studies to create a marketplace in Ticino, under the aegis of the canton.  And indeed for 2021, the year of our fiftieth anniversary, we have created an "ated virtual network" that aims to aggregate all the excellence of Ticino in a platform and we are very open in making it available to the territory, recovering what has already been proposed and offered in recent months to all the institutions and operators concerned.to learn more about the Italian economy click here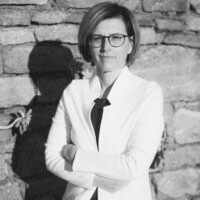 Cristina Giotto Boggia is an enterprising woman from the canton of Ticino. Over the years she has been an accountant in some companies. Today she is an active member of the Board of Ated Ticino, which has helped to achieve many goals.